will answer to: Dude
last known address: Leesburg, VA
e-address:
dferry@phillips.com
day job: Mailing List Salesman
owned by: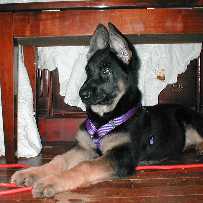 Hattie the Yorkshire Terrier and a German Shepherd puppy, Schatzi (pictured). I also have 3 cats: Angel, Crystal, and Sid. My daughter named the cats.
family unit: This year I have been married half my life to Meri-Beth. I have two grown kids: Mike and Katy.
seen in these other top5 products / humor sites:
I also write for Top 5 Movies and the Washington Post Style Invitational.
if i could be any kind of animal i would be...
I would be a parrot. Flight would be cool. You can't do that if you are a dog or cat unless you jump out of a window...but you can only do it once.
pet superhero name: Chow Man - It has nothing to do with the dog...I just like to eat.