will answer to: monkeyshines99
last known address: Sacramento, CA
e-address:
monkeyshines99@yahoo.com
day job: #1: Mystery bookstore / #2: African Import store
owned by: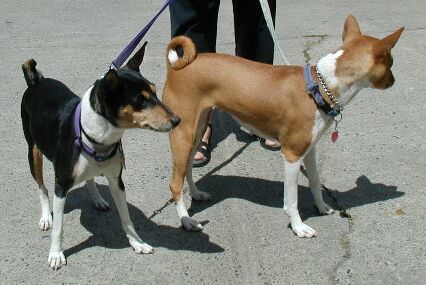 Aniba - Tricolor Basenji female, and mother of Nephthys - Red and white Basenji female
family unit: Currently just myself and the two devil-dogs-from-hell...
seen in these other top5 products / humor sites:
Little Fivers (Sci Fi, Health)
if i could be any kind of animal i would be...
I'll stay as I am, thanks - it's complicated enough being a HUMAN primate.
pet superhero name: Hmmm... would that refer to the part of the Superhero I can pet??
i also wanna say... Fond of books, strong coffee, acid jazz, blues, banter, odd shoes, clever men, and rascally dogs... (as well as many other things too numerous to mention.)