will answer to: "Hey, stud!"
last known address: Perth Amboy, NJ
e-address:
justin-paul.geo@yahoo.com
web site:
http://www.geocities.com/justin-paul.geo
day job: Technical Writer
owned by: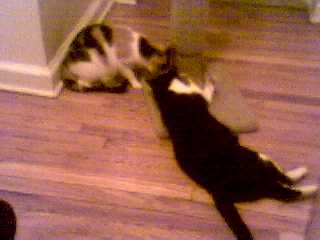 Nicky (m), a tuxedo colored cat, and Summer (f), a calico cat
family unit: Jaice, my 8 yo rugrat
seen in these other top5 products / humor sites:
Club Top Five, Little Fivers (Health, Parenting, Geek)
if i could be any kind of animal i would be...
Human, because they can laugh milk out of their noses
pet superhero name: A stud is a kind of animal superhero, isn't it?
i also wanna say... I KISS YOU!!!!