will answer to: Ringmaster
last known address: Austin, Texas
e-address:
mweiss_100@yahoo.com
day job: Lawyer
owned by: Age and autos cut cat population from 7 to 1 in just three years, so we will soon be acquiring more. Also feed raccoons and the occasional dog.
family unit: Wife practices law in Austin. Son 1 practices law in Dallas. Son 2 is three years old and does not practice law.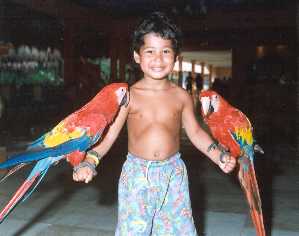 Young Spencer is at that age where he parrots everything back...
seen in these other top5 products / humor sites:
Top Five List, Top5 Sex, Top5 Liberal Politics, and Top5 Conservative Politics
if i could be any kind of animal i would be...
Mountain lion. Dunno why; it just sounds cool.
pet superhero name: Super Can Opener
i also wanna say... Reasoning with teenagers is like trying to herd housecats: it wastes your time and annoys the cats.